Last night I pulled some boneless chops out of the freezer and studied them for a few minutes trying to decide what to do with them. Chinese sounded yummy. This is what I came up with and it turned out really good. It was dubbed "make again" by the hubby. You can get even more flavor into the chops if you use thin cut or pound them good with a meat mallet until they are pretty thin. I tenderized mine only for a few minutes, as I wasn't looking to spend too much time in the kitchen. I imagine it would also be good with the pork cut into bite size pieces. My recipe is below. Let me know if you decide to try it!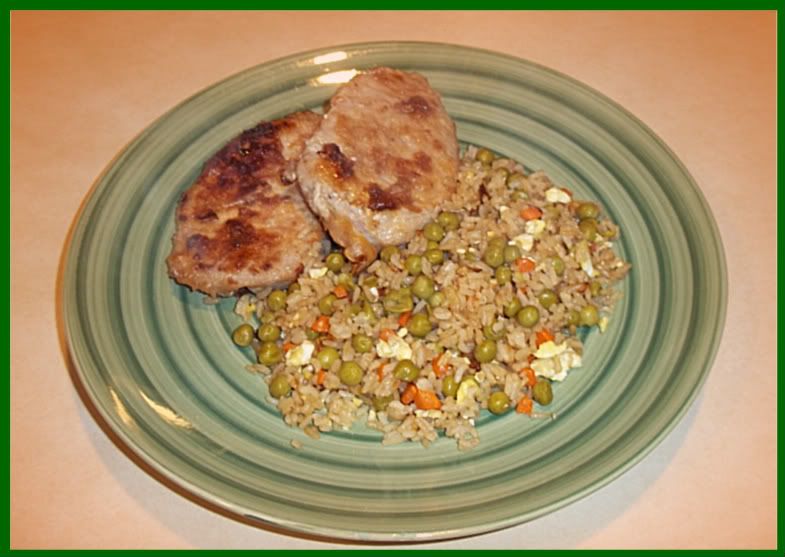 For the Pork Chops:
1 TBS Soy sauce
1 TBS Teriaki sauce
1 TSP Worcestershire sauce
1/2 tsp salt
dash of cayenne
dash of Chinese 5 spice
1 TSP garlic powder
2 TBS brown sugar
1 egg
6 TBS corn starch
2 TBS oil for cooking
Mix all but the last two ingredients. Use this to marinade your meat for at least 30 minutes for best flavor. When you're ready to cook it, push the meat aside and mix the cornstarch into the marinade until smooth. Re-coat the meat and fry in oil until juices run clear. or a meat thermometer reads 170 degrees. Don't over cook!
For the rice:
2 cups instant white rice
2 TBS chopped onion
1 carrot diced small
1/2 cup peas
1 egg
1 TBS of soy sauce or more to your taste
2 TBS oil for cooking
Make rice according to box directions. While rice is cooking, stir fry onion and carrot in oil in a wok or non-stick fry pan over medium-high heat. Add cooked rice and soy sauce and fry for a bit, tossing often. Push rice aside in pan and add a touch more oil and crack the egg into oil. Scramble and cook on the side until cooked through. Mix into rice and vegetables. Stir in peas. You can keep this cooking on low while your chops are finishing up.
If you enjoyed this, follow my blog. I will add new recipes with pictures as I make the good stuff!