Welcome, Bloggy Friends! Here you will find a variety of regularly scheduled Blog Hops, hosted by various bloggers. Please take a look around and have some fun making new friends!
Would you like to share your Blog Hop Button on these pages? I'd love to have you!
Just use the Contact Me form and provide the info!
I'd also sure appreciate it if you became a follower of Jessica, The Mom, but it is not required.
And again, not required, but feel free to Grab My Button or add a link to my blog on your site.
Thanks!
Monday Hops

Wednesday Hops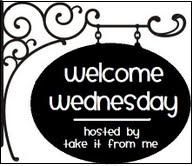 Thursday Hops
Friday Hops